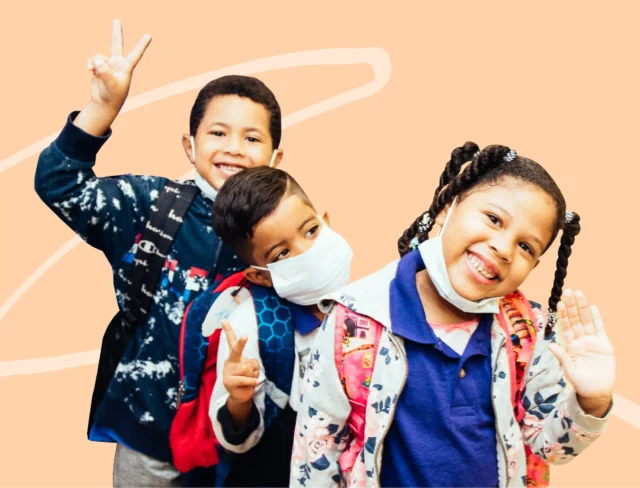 Early Childhood (PreK)
Our PreK program sets the stage for truly transformational work with children and educators by developing and implementing a first-rate literacy, language, and social-emotional model. Our district and organizational support provides turn-key strategies and direct training in pedagogy, assessments, and data systems.
Program Outcomes
These measures seek to ensure that at least 85% of children reach Widely Held Expectations benchmarks and in validated instruments (e.g., TOPEL, GOLD)
Provide high-quality interactive read-alouds
We will support teachers as they conduct high-quality interactive read-alouds three times per week for the duration of the coaching cycle.
Build high-quality small group activities
Teachers will design high-quality center and small group activities, including Phonological and Print Awareness, Phonics, and Writing.
Enrich children's vocabulary and social-emotional skills
Our read-aloud model seeks to enrich children's vocabulary, social-emotional skills through high quality conversations and interactions.
Our Services & Programs
Early Learning

Matters
10 weeks of on-site support
2 days of intensive learning focused on social-emotional skill development
A professional learning sequence encompassing:

Introducing teachers to the content and pedagogy of early instruction
Modeling the teaching strategies
Planning collaboratively using lesson planning tools, templates and data analysis to monitor child progress

Coaching that uses observable instructional competencies to advance teacher practice
Turn-key expertise and support for public school districts, grantees, administrators, and community based organizational systems in:

Small group instruction (PPA, Phonics, Writing, Math)
Special Education Foundations
Repeated Interactive Reads
Assessments and Data Systems of Support
"Teaching Matters gave the children more ways to understand their feelings and express themselves as well."
Anonymous
Nia Center
Our Projected Reach
Our goal is to support schools in Creative Curriculum, Reggio-Inspired, and district-created curricula. We also want to work with district-wide coaches and administration in the tri-state area in providing high-leverage and high-impact trainings on coaching to outcomes.
20
Community based organizations and public school settings reached in NYC and Chicago
120
Teachers and paraprofessionals
1,250+
Children supported in direct programming
"My greatest accomplishment was being able to observe children begin to utilize and show understanding of the Tier I, II and feelings vocabulary. I really feel more confident in being able to take all what I've learned and apply it to continuous weekly read aloud in the future and hopefully be a positive model for my team members as well."
Anonymous Teacher
Taylor Center
Meet our Coaches
"The best part of working with educators is collaborating on a common goal to provide the necessary tools for students to achieve academic success."
Contribute Help Us Close the Opportunity Gap
Your support helps us bring excellent teaching to more students.
See How You Can Donate